Welcome to Point Reyes National Seashore!
Dear Valued Guests & Friends:
We are temporarily closed for the season and will reopen on New Year's Eve.
Happy Holidays!
Frank & Karen
Inn at Roundstone Farm … a Point Reyes Bed and Breakfast Inn, is located in the town of Olema within the Point Reyes National Seashore on the Marin County Coast of Northern California.
This celebrated inn is a place of serenity where guests discover the pleasurable company of new friends, the sights and sounds of nature's harmonies, delightfully fresh breakfasts … and the freedom to explore the Pt. Reyes National Seashore or the long forgotten rhythms of one's own heart.
Enveloped in ten acres of rolling hills, this five guestroom bed and breakfast inn is an hours drive from San Francisco. This Point Reyes Inn is home to horses, ponds, bullfrogs and over 360 species of birds. Simultaneously, ever-changing panoramic views of Mt. Wittenberg, Olema Valley, Inverness Ridge and Tomales Bay provide a visual banquet for the inn's guests.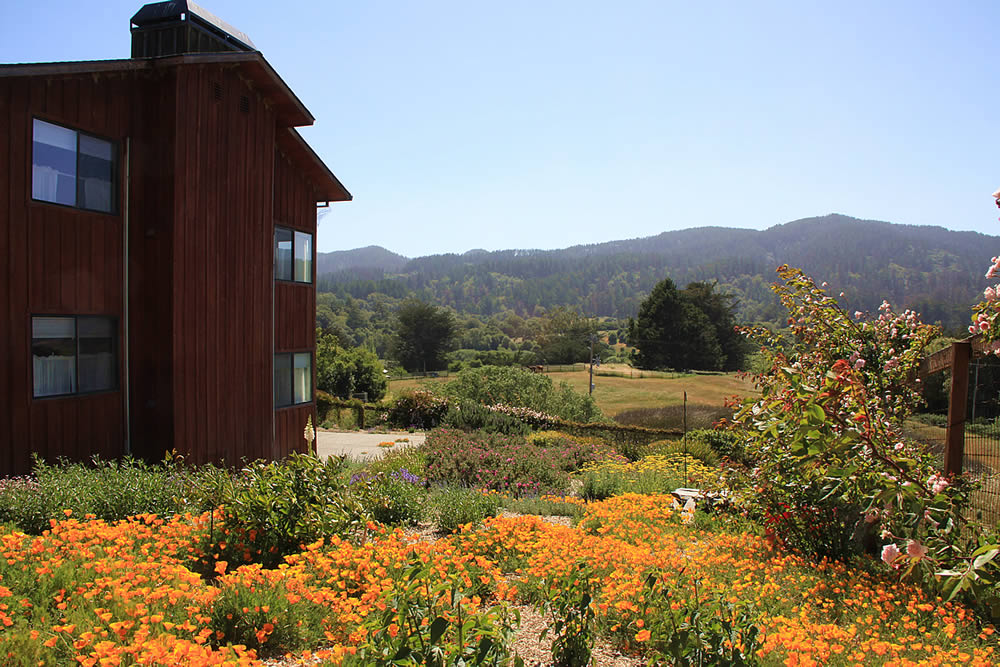 Through the years, guests have come to the inn looking for a fresh travel experience, longing to spend quality time with loved ones, to enjoy the gifts of nature, or seeking to find a deeper meaning to life. We hope you will come and discover the rejuvenating magic of the Inn at Roundstone Farm.
"We just spent two nights at Roundstone Farm, where we had a very pleasant stay. The breakfasts were fabulous, and we enjoyed our conversations with the other guests and with our hosts. As we finished breakfast one morning, we watched two coyotes cross the field through the big front window, chased off by two deer. From the dining room window, we watched doves and quail. The owners are longtime residents of the area and are extremely knowledgeable about the community and the environment. The B&B is well located for hikes at Point Reyes National Seashore and is minutes away from Point Reyes Station and its restaurants. We highly recommend this B&B and would stay there again." – JLKZ, TripAdvisor.com
Breakfast is a special event at the Inn at Roundstone Farm: Innkeeper Frank Borodic is most often the morning chef. Skillful in the culinary arts, Frank prepares a full country breakfast and engages in the most delightful conversations with guests!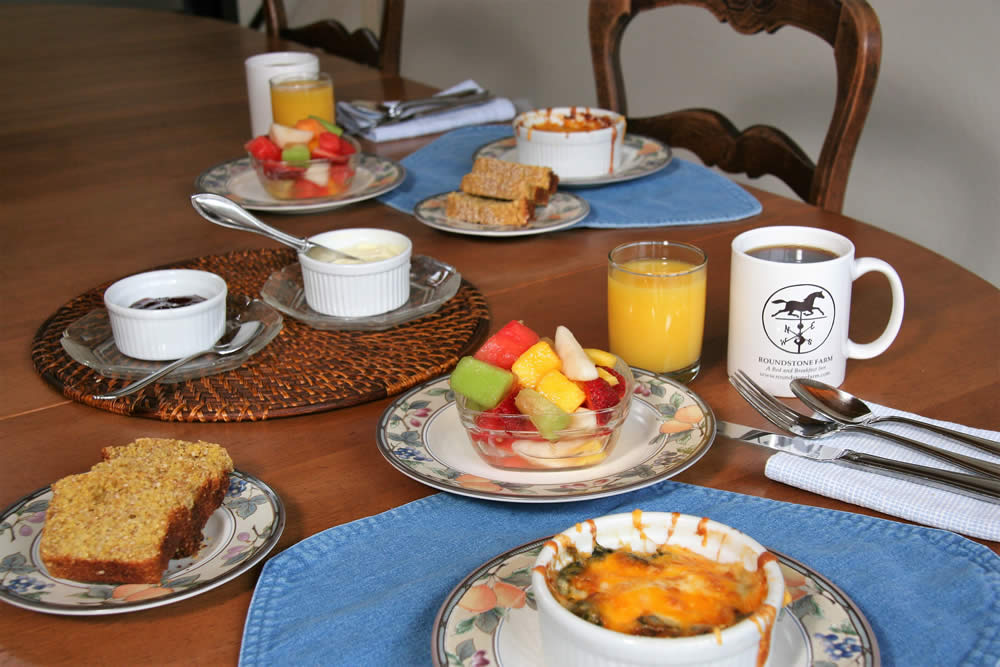 "The Inn at Roundstone Farm is an excellent B&B in Olema, close to hiking, ocean, and restaurants. We stayed in the Pond room, and it was spacious, with a comfortable bed, lots of light, comfortable chairs, a large bathroom, and a fireplace. The whole Inn is clean, beautifully decorated, and surrounded by well maintained grounds. Frank (innkeeper) is lovely – he makes a terrific breakfast each morning which we enjoyed while chatting with him and the other guests. If you are looking for the perfect B&B in Marin, I highly recommend the Inn at Roundstone Farm." – Barbara & Bob, TripAdvisor.com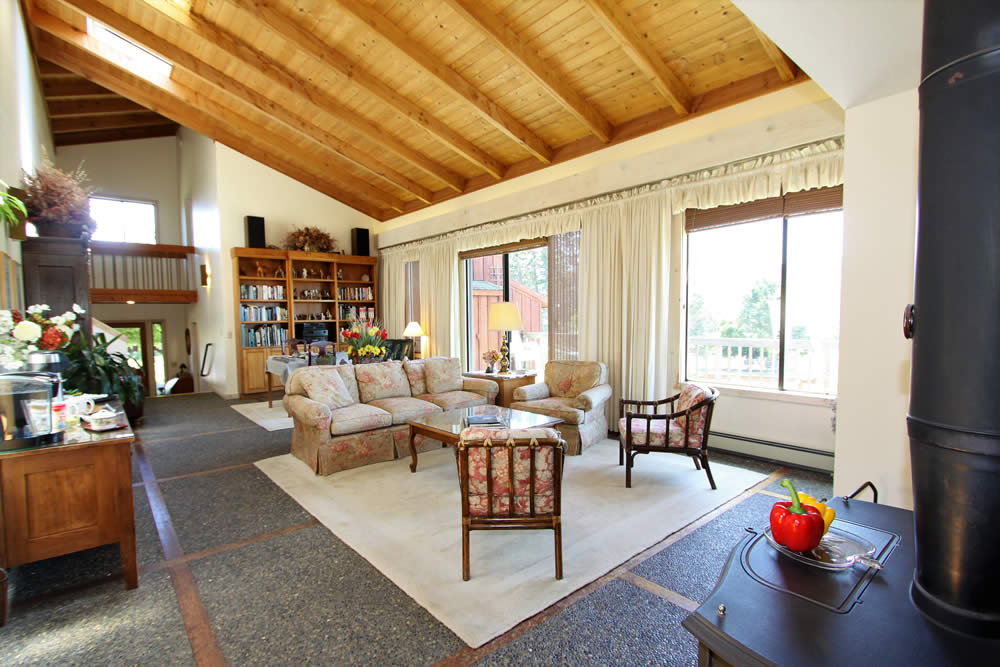 There is much to do at the inn. Afternoon refreshments can be enjoyed on the flower-laden deck or while comfortably seated in the expansive living room with its 16-foot ceilings, skylights, and huge glass windows overlooking the valley and the wooded slopes beyond. Comfortable couches and chairs invite you to relax. A library of books awaits those with a love for the written word.
"My 100th review goes to a very special place for my husband and I. He planned a surprise 4-day mini moon for us the day after getting married. We enjoyed our stay so much that we came back a year later for our first year anniversary. This time we stayed for a whole week, and it was even more wonderful." – Kristi, Yelp.com