About Inn at Roundstone Farm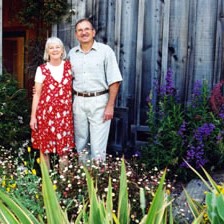 The Inn at Roundstone Farm was built in 1987 by the family that still owns the inn. Connemaras and Arabian horses are raised on the land that surrounds the inn. The farm itself is named for the village of Roundstone in the Connemara district of western Ireland, where Connemaras first lived as wild ponies.
Innkeepers Frank Borodic and Karen Anderson share a passion for the inn that began with a timeless vision. "My mom purchased this land and later built the inn," Karen explains. "She wanted to create a place that welcomes all people – a healing and energizing inn that would far outlive her … and it has."
Breakfast is a special event at the Inn at Roundstone Farm: Innkeeper Frank Borodic is most often the morning chef. Skillful in the culinary arts, Frank prepares a full country breakfast each morning. Fresh fruit, juices, homemade breads and egg dishes are specially made from the freshest ingredients and presented with a natural sense of style. Equal to the dining experience is the conversation among guests. Memories are in the making as guests share travel experiences, stories from one's life and times, and even cherished family recipes.
"We had a wonderful stay here in late April. The view from the Ridge room (and surely the other rooms too) and the front deck is beautiful and peaceful. Lots of birds all around the property – red wing blackbirds, quail, etc. Delicious breakfast and Frank was full of recommendations and stories over morning coffee. It feels tucked away but you're still close to restaurants and shops in Olema and Point Reyes Station, and of course it's the perfect home base to explore the park. We had a relaxing, rejuvenating stay here and can't wait to return." – Abby Boudreau, Google Review