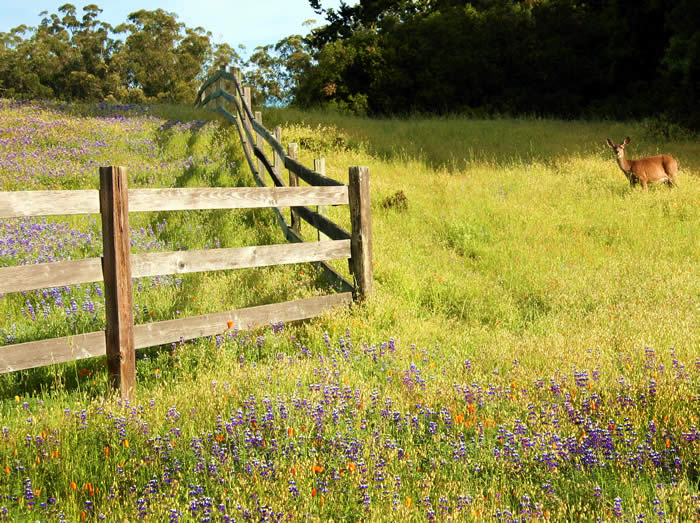 For those who love wildflowers (just about every one!), a trip to the Point Reyes National Seashore in the spring and summer is a must. Wildflowers peak between February and June, but can last as long as August.
California poppies, paintbrush, lupines, gold fields, iris, and monkey flower are some of the wildflowers typically seen in the area. As well as throughout Inn at Roundstone Farm's property. Depending on the rain in Northern California over the past winter, wildflower season varies from abundant with color to spectacular in vibrancy.
Wildflowers can be viewed in many habitats including woodlands, scrublands, grasslands, coastal bluffs, beach, dunes, disturbed areas, and salt marsh edges. Abbotts Lagoon, Chimney Rock, and Tomales Point are just a few of the locations where the flowers bloom early in the season.
Remember that wildflowers are protected by law in national parks. Please don't pick the wildflowers or crush them by straying off the trails.
By definition …
A wildflower (or wild flower) is a flower that grows in the wild, meaning it was not intentionally seeded or planted. The term implies that the plant probably is neither a hybrid nor a selected cultivar that is in any way different from the way it appears in the wild as a native plant, even if it is growing where it would not naturally. The term can refer to the flowering plant as a whole, even when not in bloom, and not just the flower.
Get a list of Flowering Plants of Point Reyes National Seashore:
https://www.nps.gov/pore/learn/nature/upload/plantspecieslist_flowering.pdf